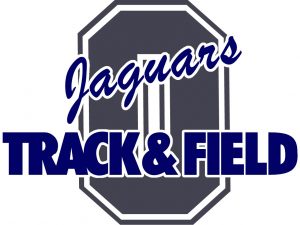 OJH JAGUARS
TRACK AND FIELD 2017
Meet Schedule 
Wednesday March 15th @ 2:45
Orem vs. Timberline Middle  @ Orem Junior
Wednesday March 22th @2:45
Orem vs. Mountain Ridge  @ Orem Junior
Wednesday March 29th @ 2:45
Orem vs. Pleasant Grove  @ Orem Junior
Wednesday April 12th @ 2:30
Orem vs. Lakeridge   @ Lakeridge
April 25th and 26th  @ 1:00
Alpine Days District Championship @ Mountain View High School
Coaches and Staff
Gayle Bracken, Assistant Coach – Distance Events
Kyle Bilbao, Head Coach – Field Events
Jessica Palu, Assistant Coach – Field Events
Jake Sigafus, Head Coach – Sprint Events
Asst. Principal-Athletics: Kathe Thornton
Activity Costs
Participation Fee – $20.00 
Spirit Pack (inc. – hooded sweat shirt, long sleeve performance T-shirt) – $35.00
*Spirit Pack is not mandatory.
Total Cost (with Spirit Pack) $55.00
Program Information
This program is open to all 7th, 8th, and 9th grade girls and boys who will adhere to the established policies of attendance and fully participate in all workouts in order to better themselves athletically and contribute to the success of the track team.
Tryouts will be used to select participants for those athletes who will compete in each track meet.  Participants will not be cut from the team unless they fail to meet the expectations set forth in this document and by the coaches.
Items necessary to participate on the track team:

Permission Slip and Fee

Permission slip (White Paper in packet) &

$20

participation fee to Mrs. Talbert (finance office)

on or before February 31st.

  

This fee covers transportation and other costs associated with a quality track program. 

Physical Examination

Proof of a physical examination by

March 13th.  Completed physical forms should be given to one of the coaches.
ALL ATHLETES MUST GET A NEW PHYSICAL.

 

UHSAA and ALPINE SCHOOL DISTRICT POLICY REQUIRES THAT EACH ATHLETE HAVE A CURRENT PHYSICAL EXAMINATION THIS YEAR.

(Scout camp or other physical examinations are permitted as long as they were given

after July 1, 2016.)


*Physical Examination Forms are available from coaches.

Grades and Citizenship

Grades and citizenship

must be meet satisfactory eligibility requirements to participate on the track team.  (2.0 GPA or higher, No More than one F, Citizenship no more than 2 C's, No F's,). This will be checked now, at the end of third term and throughout the season.

No refunds will be given for athletes failing to meet academic requirements.
Program Rules

Conduct:  All members of the team (players, managers, coaches) are expected to abide by the guidelines set forth in the Orem Junior High Jaguar Journal.
Additional team rules include but are not limited to:

Use of foul or degrading language is prohibited.

Hazing or any form of intimidation of teammates or opponents is prohibited.

Participants are expected to treat all members of the team with respect.  Failure to speak and act respectfully will not be tolerated.

Failure to comply with established rules may result in dismissal from the team.

Practice/Event Attendance 

Players are expected to attend and BE ON TIME for all scheduled practices and games.
Practice will be held, rain or shine Tuesday through Friday, from 3:00 p.m. to 4:30 p.m.
PLEASE ARRANGE WITH YOUR ATHLETE TO PICK THEM UP AT THE APPROPRIATE TIME AFTER PRACTICE
Practice will NOT be formally held on Mondays, however athletes will be given workouts that they are to do on their own.
In the event of inclement weather, practice may be held in the gym.

Any participant who misses a practice must inform a member of the coaching staff, preferably the head coach of their events, in advance of the absence.

Missing a meet is unacceptable in all but the most serious situations. An absence from a meet without prior notification, except in dire emergency, will result in the participant being dropped from the team.
Equipment

Team members should dress appropriately in good running shoes, running shorts, and a t-shirt for every practice

.  Sweats, a beanie and gloves are also recommended.  Contrary to popular belief, track season is not during warm, sunny weather.  

Most days are cold.

 Please dress appropriately.

It is recommended (

not required

) that sprinters purchase track spikes.

Use of OJHS track uniforms and equipment is a privilege.  Abuse of or failure to return equipment, uniforms, or other issued items will not be tolerated. Participants who fail to return equipment will not be allowed to participate again until all issued items are returned or payment for the full value is received by the OJHS accounting department.

Equipment is not to be exchanged with other players.  If equipment needs to be exchanged, turn it into the equipment manager or a coach and different equipment will be issued.