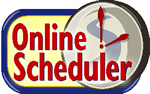 9th Grade Students
Honors Night and Dance will be Thursday, May 23.  Honors Assembly will begin at 6:00 p.m. Dance will begin at 7:00 p.m. Cost for the dance will be $4.00 payable to Mrs. Keller in the Financial Office.
Lagoon Day will be Tuesday, May 29 for 9th grade students who have not been suspended, do not have F's in citizenship or academics. Students must pay $10.00 for the bus ride by May 17 to Mrs. Keller in the Financial Office. There will only be three buses going, so once the three buses are filled (150 seats) we can't take anymore.  Students will pay their entrance at Lagoon which is $28.00, cash only! Students will also be responsible for their lunch, drinks, or any other expenses for the day.  Buses will leave at 8:30 a.m. and return at 5:30 p.m.
9th Grade students that will be attending MVHS next year, you are invited to their end of school year dance, May 30, 8:00 p.m. – 10:30 p.m. in the Bruin Bowl.  Cost is $5.00 and students MUST show their OJH ID (required).
Jaguar Pride
Congrats to Orem Jr. for being recognized as a Title 1 School of Distinction for high growth and above average achievement.  OJHS was the only traditional public junior high in the state to receive this award!
Under the new state end-of-year testing framework, OJHS is ranked in the 93rd percentile when compared to all other junior highs in the state of Utah.  That means only 7% of the junior highs in the state scored higher than OJHS.